Current Shows
Hey, what do you want? With things the way they are, who knows when the next mass gathering will be? But come back to check - you'll be the first to know.
---
Previous Shows
Carter Burden Gallery presents:
Summer Selection
Jody Fink constructs raw, whimsical, and often ironic creations from the world around her. Fink feels drawn to the detritus of our lives, stating "These creations are small monuments to every passing moment and the recycling of refuse of every moment past. I want to build from our ruins a place that cannot be destroyed or neglected."
548 West 28th Street in New York City.
August 4 – August 31, 2022
The gallery hours are Tuesday - Friday, 11 a.m. - 5 p.m., Saturday 11 a.m. - 6 p.m.
Opening Reception: Thursday, August 4, 6 - 8pm
Masks are Required
---
March 13 - April 9, 2022
Watchung Art Center
18 Sterling Rd, Watchung, NJ
Hours: Tuesday and Thursdays 12-4pm, Saturday 10-2 PM
---
Artists Talk on Art
February 7, 2022
Watch it on YouTube

"Two Practices: Art & Therapy"
A panel about artists who are also therapists.
Organized and moderated by Barbara Lubliner.

Panelists:
Beth Barry
Jodie Fink
Judith Luong

---
Women Celebrate Women

August 2021

El Barrio's Art Space PS 109
215 East 99th Street, NYC


---
April 10 - May 2, 2021
Open at various times; Call 201 659-8335 ext 103 for appointment
The Mason Civic League
1200 Washington St, Hoboken, NJ 07030
See
artpal.com/thehudsonschool
for additional pictures and details.
---
CURATOR: VERNITA NEMEC
• Virtual Release: Thursday April 15, 2021
• Virtual Exhibition: April 15, 2021 – May 30, 2021
See: Up-cycling Detritus at Sculptors Alliance



---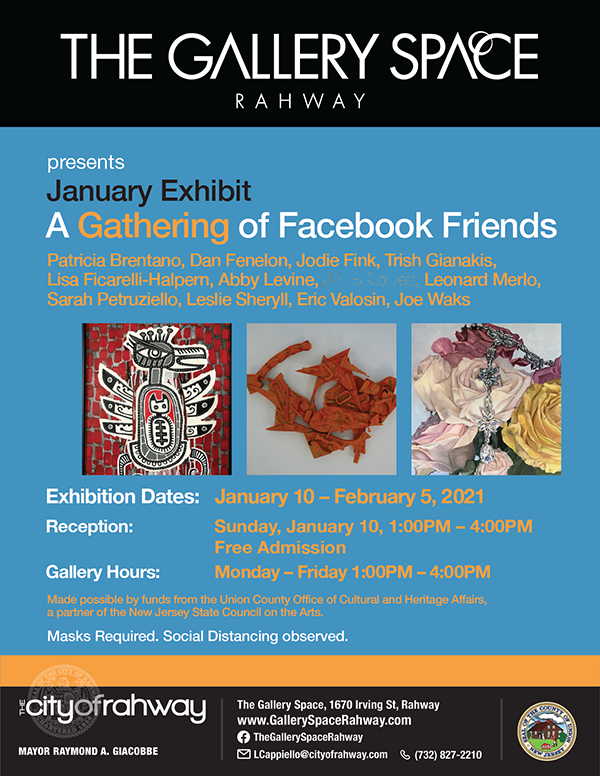 January 10 - February 5, 2021
Gallery Hours: Monday - Friday 1:00PM - 4:00PM
The Gallery Space
1670 Irving St, Rahway, NJ
Reception: Sunday, January 10, 1:00PM - 4:00PM

Free Admission

---
Everyday Objects

November 1 to December 7, 2019

Studio Montclair Gallery

127 Bloomfield Avenue, Montclair, NJ
The exhibit, featuring the artwork of numerous artists in Montclair and beyond, celebrates "found" objects that, while inanimate, imbue our lives with meaning both collectively and individually.
---
Reprocess
November 7 to December 13, 2019
Gallery Hours: Monday - Sunday 11 am to 6 pm


Saint Peter's University
Fine Arts Gallery, Mac Mahon Student Center
47 Glenwood Avenue, 5th floor
Jersey City, NJ 07306
201-761-6484
Read the Review in the Jersey City Times
---